| | | |
| --- | --- | --- |
| | Dyke | |
Associated Chapels: Culbin (St Ninian)
OS Ref: NH 990584 RCAHMS No: NH95NE 11
The earliest church on this site was associated with St Ninian. The church was gifted to Richard, the Bishop of Moray, by King William the Lyon (1189x95) and was afterwards part of the episcopal mensa.
The present church is said to have been build 'behind' the site of 'the old Roman Catholic church' in 1780-1. During this construction project major finds were made - a fabulous cross-slab (the Rodney Stone) and a hoard of 12th century coins. The slab was removed and now stands just inside the entrance to Brodie Castle. The presence of this cross-slab and the ancient dedication to St Nnian is substantial evidence in favour of this being a very early Christian site indeed.
These lands were in the hands of the Earls of Moray whose burial enclosure lies within the churchyard.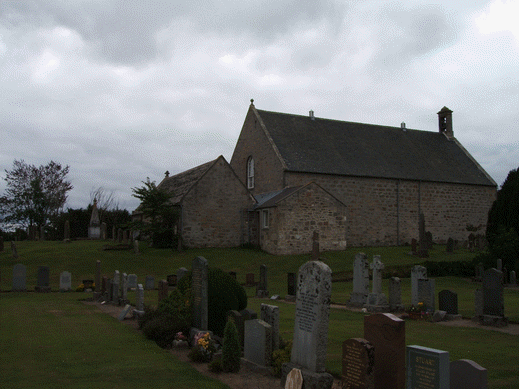 The present day Church of Dyke.
| | |
| --- | --- |
| | |
| Burial enclosure of the Earls of Moray. | Plaque - "This is the Burying Place of the Family of Moray". |
| | |
| --- | --- |
| | |
| The fabulous Rodney Stone showing its Pictish symbols. | The reverse side with its magnificent cross. |

e-mail: admin@cushnieent.force9.co.uk
© 2005 Cushnie Enterprises