The Tully Lough Cross.
© National Museum of Ireland
Tully Lough Cross
The cross arms are cusped and decorated with bosses and panels, some of them openwork; the ornament is characteristic of Insular art of the late 8th-early 9th centuries (Photo courtesy of the National Museum of Ireland)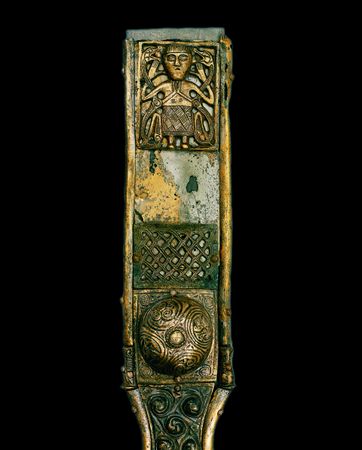 Upper shaft of the Tully Lough Cross showing details of the decoration,
including a human figure between two animals, an openwork interlace
panel and a bosse with spiral decoration.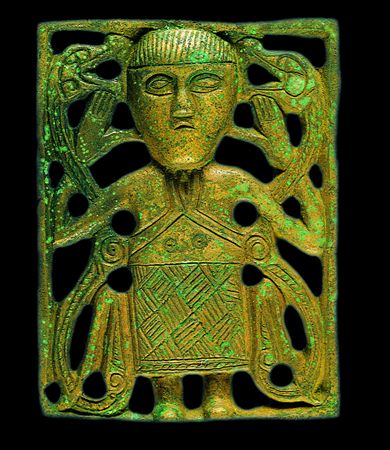 The Tully Lough Cross is an Irish altar cross of the 8th or 9th century. Constructed of metal sheets on a wooden core, it is a rare example of a metal-encased cross of the period and the only relatively intact Irish example, although what may be components for similar Irish crosses of the period have been found elsewhere in Ireland, England and in Viking graves in Western Norway. It is similar in form to the later Cross of Cong, which dates to the 12th century and which also has Co. Roscommon connections through its maker Mael Isu UaEchan, Abbott of Clooncraft. The only contemporary intact cross of comparable form is the 8th-century Anglo-Saxon example preserved at Bischofshofen in Austria, while the fragmentary remains of a bossed metal and wood cross of the 8th century from Dumfriesshire, Scotland, is in the National Museum of Scotland.

This page was last updated on: 13 September 2005

e-mail: admin@cushnieent.force9.co.uk
© 2005 Cushnie Enterprises