Kincardine O'Neil is one of the earliest communities on Deeside. It was a village when Aberdeen was just a small collection of fisherman's huts! It marked one of the main crossing points over the River Dee and hence had to have its church - the tradition was that there had to be a church so that those crossing the perilous waters could either pray for a safe crossing or give thanks for having had one.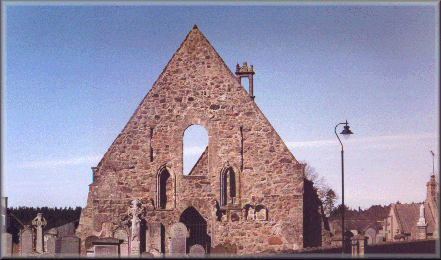 There are many signs of a Pictish community and St Erchard is the patron saint. He was a "local" Pict although he worked for much of his time elsewhere, beside Loch Ness.
On 7th March 1338, the church of Kincardine O'Neil was erected into a prebend of the Cathedral church of St Mary and St Machar in Aberdeen by a gift of Duncan, Earl of Fife. Duncan had inherited the lands of the Durwards and solemnly handed the patronage over, signing the deed on the altar of the BVM in the cathedral. It would seem that the bishop of the time, Alexander Kininnmund, built a new church here soon after 1338.
Kincardine is derived from the Gaelic "Ceann-na-cearn", meaning the head of the hill, or the head of the quarter, region or district. O'Neil is said to have been derived from the Barony of Oneil, viz. the lands of Coull, Kincragy and Corse, which in 1234 belonged to Colin Durward, Lord of Oneil, and that Kincarden, as the name is uniformly written in old deeds, was appointed to be "the head" place of the district of Onele, in all time coming.
Tradition says that Alan Durward, Lord of Oneil, "founded the Hospital at Kincarden, to which he annexed the patronage of the church of Lumfanan, and that St Erchard was patron of the church in the reign of Malcolm I. AD 933."
In more recent times one of the most famous Lord Lyon King of Arms, Sir Malcolm Innes of Learney, was buried within the church's walls.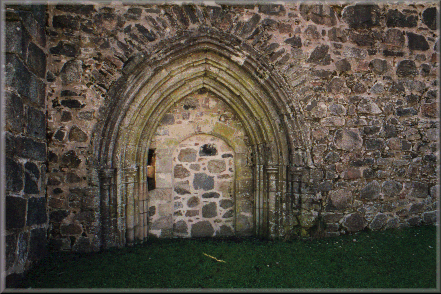 Early 14th century doorway in north wall of church..

e-mail: admin@cushnieent.force9.co.uk
© 2005 Cushnie Enterprises