Clova is one of the most ancient Christian Sites in all of Scotland. Founded by St Moluag it served the Pictish tribes who thronged the area as is evidenced by the many Pictish remains to be found.
Clova or Cloveth was founded sometime between AD 565 and 592 as an offshoot from St Moluag's other great foundation at Mortlach. It thus would have accepted Bangor and Lismore as its mother church. By a Papal Bull of Adrian IV, the lands of the old Muinntir of Cloveth, and the town of Murthlach and the lands of the old muinntir there, were confirmed to Edward, the Roman Bishop of Aberdeen. However, the Picts of Cloveth did not allow the lands of the old muinntir to go to the Roman Bishop without a struggle; because the sixth Bishop of Aberdeen, Gilbert de Sterling (1228 - 1239), was compelled to use force to recover "Cloveth and Birse from the wicked mountaineers"!
Clova was also a great seat of learning and many of the ancient masters of Christianity visited it on their journeys since it is situated on the "main road" of the times between the Mearns and Morayshire, via the Cabrach.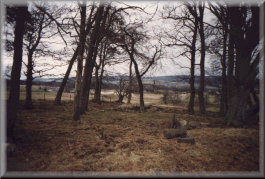 Site and remains of the Celtic foundation of Clova.

e-mail: admin@cushnieent.force9.co.uk
© 2005 Cushnie Enterprises