| | |
| --- | --- |
| | THE CHAPTER. |
The following shows the Chapter of Dornoch Cathedral as constituted by Bishop Gilbert in 1223-45. (The original charter of foundation is still at Dunrobin Castle.) Having found only a single priest officiating he drew up a constitution based on that of Elgin and Lincoln which described a chapter of ten members:-
| | | |
| --- | --- | --- |
| BISHOP | ~ | possibly Dornoch. |
| DEAN | ~ | church of Clyne + ¼ altarage of Dornoch + lands of Methandurnach. |
| PRECENTOR | ~ | church of Criech + ¼ altarage of Dornoch. |
| CHANCELLOR | ~ | church of Rogar + ¼ altarage of Dornoch. |
| TREASURER | ~ | the church of Larg (Lairg) + ¼ altarage of Dornoch in 1238-9 and Spittal in 1547. |
| ARCHDEACON | ~ | churches of Bower and Watten. |
| PREBENDARIES | ~ | Olrich, Dunnet, Cannisbay, Kildonan (Abbot of Scone). |
The church of Far was given to the Chapter as a common church and they drew revenues while resident in the Chanonry or while employed in the external business of the church or the Bishop.
The prebendaries of Olrick, Dunnet and Canniesbay were given the church of Skinnet to hold in common. In their absence from the diocese these revenues were given to the Cathedral for "work and ornament."
The church of Durness was given to find light and incense for the Cathedral.
The Hospital of St John at Helmsdale was, in later times, a prebend of the cathedral, as was the church of Assynt, and the chaplainry of Kinnald in the cathedral. These additions took place at a date after 1500.
It is interesting to note that the three 'ordinary' prebends, along with that of the Archdeacon, are located in the very north of the Diocese whereas those of the 'dignitaries' are to the south. One wonders if this, in some way, reflects an older diocesan arrangement when the cathedral was located at Skinnet and the early prebends were the northern ones.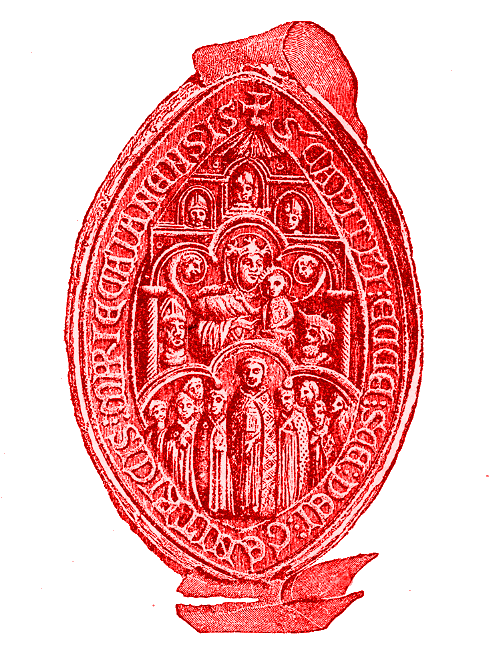 Seal of the Chapter of Caithness from a deed of 1559.
The inscription round the edge reads:
S. CAPITULI ECCLESÆ SANCTÆ DEI GENTRICIS MARLÆ CATANENSIS.
e-mail: admin@cushnieent.force9.co.uk
© 2005 Cushnie Enterprises