| | | |
| --- | --- | --- |
| | Urquhart | |
Associated Chapels: Achnahannet, Bunloit, Cannich, Corrimony(St Curidan), Glenmoriston, Kilmichael, Pitkerrald (St Cyril), St Adamnan's, St Ninian's.
OS Ref: NH 515296 RCAHMS No: NH52NW 2
At Drumnadrochit, towards the shore of Loch Ness, are the remains of the former parish church, built in 1630, and known as "Kilmore" (Gael: Kil Mhuire, 'Church/chapel of Mary'), as was its predecessor which was mentioned in 1215. There are no traces to be found of the oldest church on this site but there is a section of wall with a lancet window set in it.
| | |
| --- | --- |
| | |
| Wall remnant with lancet windown. | Detail of the window. |
In the earliest days of diocesan organisation Urquhard (its old spelling) was combined with the church of Inveravon (St Peter de Strathouen) to form the prebend of one of the three canons who, with the dignitaries, constituted the chapter of the early cathedral as founded by Bishop Bricius (1208-15). Later, in the expansion of the chapter in 1226 when the cathedral was removed to Elgin, Urquhard and Inveravon became prebendal churches of the Chancellor of the Diocese.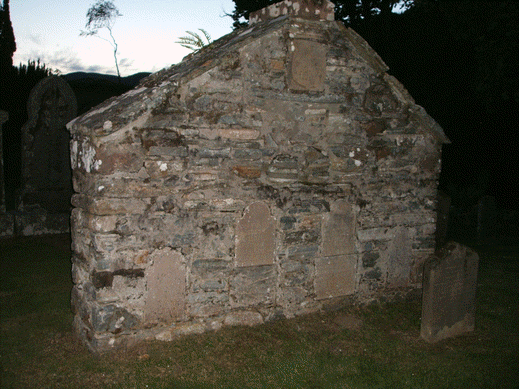 e-mail: admin@cushnieent.force9.co.uk
© 2005 Cushnie Enterprises