| | | |
| --- | --- | --- |
| | St Andrews. | |
Associated Chapels: Inchbroom; Kilnalemnock.
OS Ref: NJ 249627 RCAHMS No: NJ26SW 24
The ancient name, Kilmalemnock (Cille mo-Lemnoc), indicates the possibility of a Celtic foundation here.
The "Bishop's Steps", a causeway, had been formed by the order of the Bishop to allow his vicar to get from St Andrew's, after the service in the forenoon, to officiate at Ogstoun in the evening of each Sunday. The church seems to have been served by a chaplain, maintained by the Vicar of Elgin, up to the fourteenth century achieving parochial status some time afterwards, when it was part of the Episcopal Mensa. There is some confusion caused by certain authors who call the church as well as the chapel at the Castle of Forrester Seat by the name of Kilmalemnock.
Within the present graveyard is the "Leuchars Aisle" the burial place of the Innes family of Leuchars. The outline of the old church may be seen as a rectangular hollow to the west of this Aisle and there is a fragment of masonry which now supports a memorial to Mr John Paterson, once Minister of Dipple, which is thought by some to be part of the original fabric. Of old there was a "rude font, now broken" within the graveyard but no trace of this is now to be found.
The lands of Pitgaveny were originally held by the Bishop of Moray and later were in the hands of the Brander-Dunbar family whose members are buried within the graveyard of St Andrews. The lands of Dunkinty (where Elgin Cemetery now stands) and St Andrews, separated by the River Lossie, appertained to John Innes, Esq. of Leuchars.
In 1642 the parish of Oguestown (Ogston) was united to that of St Andrews.
The parishes of St Andrews and Lhanbryde were combined in 1782, and St Andrews was allowed to fall into ruin.
| | |
| --- | --- |
| | |
| The 'Leuchars Aisle'. | This fragment of stonework is supposed to be the original fabric. |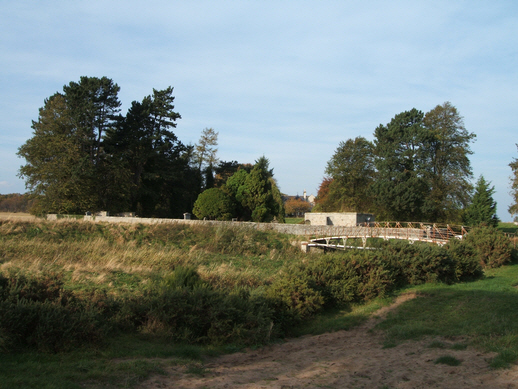 View of the churchyard from opposite bank of the River Lossie.
The Chapel of Kilmalemnock (Chapel of St Lemnoc) was probably an apartment within the Castle at Forrester Seat (NJ 254628) and upon that castle's demolition would naturally have fallen into St Andrew's parish.
The Chapel of Inchbroom (Our Lady's Chapel of Inch or the Chapel of the Isle of Spinet), which stood about 300 yards south of Inchbroom House, must have been disposed of in the same way upon the suppression of the Priory upon which it is supposed to have depended. Inchbroom seems to have been a sort of island in the old Loch of Spynie.

e-mail: admin@cushnieent.force9.co.uk
© 2005 Cushnie Enterprises