| | | |
| --- | --- | --- |
| | Rothiemurchus. | |
Associated Chapels: Achnahatnich (St Eata)
OS Ref: NH 885094 RCAHMS No: NH80NE 14
This site is said to be ancient and to have been associated with St Tuchaldus (or Duchaldus).
King Alexander II granted the lands of Rothiemurchus to Andrew, Bishop of Moray, in 1226 AD 'as a forest', no doubt to supply the needs of building his new cathedral at Elgin. The King received other lands in exchange. The main seat of these lands was, of old, at Loch-an-Eilen. The parsonage and vicarage tithes remained a part of the Bishop's mensa for a time but, later, the Bishop mortified the revenues of the church to furnish lights and candles for the cathedral.
The present ruin, although on an ancient site, is not itself very old having been rebuilt more than once. It stands to the south of the grounds which surround "the Doune", the house which was the seat of the family of Rothiemurchus and which fell into ruin. It has only recently been restored and the family of Grant live in it once again.
Rothiemurchus church has been the burial place of the Grant family of Rothiemurchus as well as some of the Shaws who had the estate before them. In particular, here is the grave of Seath Mor, a Shaw notable for having distinguished himself at the famous clan-fight before the King at the North Inch of Perth in 1396. Five oddly shaped stones stand upon the tombstone which is itself enclosed within an iron cage. The story is that the Shaws of Rothiemurchus had a 'familiar spirit' or brownie, known as the Bodach an Duin - the old Man of the Dun. When the Grants gained the estate, the Bodach allegedly left the Doune and came here to guard the Shaw tombs instead.
The parish of Rothiemurchus was united with that of Duthil in 1625.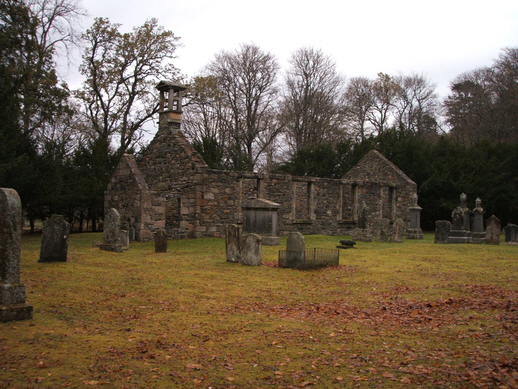 The ruins of Rothiemurchus church.
| | | |
| --- | --- | --- |
| | | |
| The old kirk viewed from the Grant mausoleum. | The memorials of the Grants of Rothiemurchus. | The grave of Seath Mor. |
Some sources speak of a chapel associated with this parish at Achnahatnich (NH975270), dedicated to St Eata. However, we would suggest that this is in fact the chapel of Auchnahannet which, by other authors, is associated with Duthill parish. More research will, perhaps, show the point one way or the other.

e-mail: admin@cushnieent.force9.co.uk
© 2005 Cushnie Enterprises