| | | |
| --- | --- | --- |
| | Rothes. | |
Associated Chapels: Chapel Ley.
OS Ref: NJ 276495 RCAHMS No: NJ24NE 5
There is yet some debate about the location of the earliest church of Rothes. Some sources say that it was situated immediately to the south of the castle whereas others insist that it was always on the north side of 'the Linn' where the graveyard is still to be found. The latter schools of thought is supported by reports of thick walling under the old burial vault which still sits in the lower portion of the graveyard. At some stage, probably early in the medieval period, the church was dedicated to St Lawrence as was the Holy Well situated nearby. However, it may be suspected that the earliest church bore the name of a more ancient saint's name. A dedication to St Lawrence is far from unknown in this province - there was a chapel of St Lawrence outside the parish church of St Peter at Duffus. the de Moravia family had lands at Dalvey in Strathspey and it is possible that they had some hand in the dedication of the church at Rothes. Nicholas, parson of Rothes, is mentioned in a charter of 1244.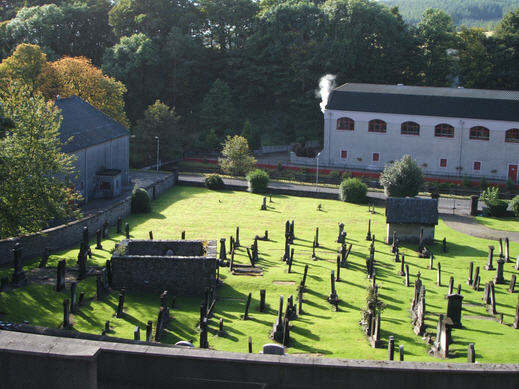 The old burial vault is clear in the lower part of the graveyard.
Rothes, at one time a Dukedom, is inextricably linked with the ancient family of Leslie and its castle was visited by Edward I 'Langshanks' (29-30 July 1296) on his journey south after having stayed at Elgin. The church was granted to St Nicholas Hospital by Muriel de Polloc before 1235 in which year the Prior and Chapter of St Andrews renounced any right they had, both in the church of Rothes and the Hospital, to the Bishop of Moray.
For those of a 'religious' turn of mind, the building shown in the picture just beyond the graveyard is, of course, a distillery ... from whence the water of life flows!

e-mail: admin@cushnieent.force9.co.uk
© 2005 Cushnie Enterprises