| | | |
| --- | --- | --- |
| | Orton | |
Chapel within the Parish of: Dundurkas.
OS Ref: NJ324552 RCAHMS No: NJ35NW 1
The chapel of St Mary at Orton has been known since very early times and was a popular site of pilgrimage by virtue of the Holy Well (St Mary's Well) which existed there. At present the only building is a chapel in the Gothic style built in 1844 which serves as the mausoleum of the Wharton-Duff family. When it was being built traces of the ancient chapel were found which were dated to Norman times c.1066-1135. The comment has been made that the chapel resembled the church at Birnie which is also of this date.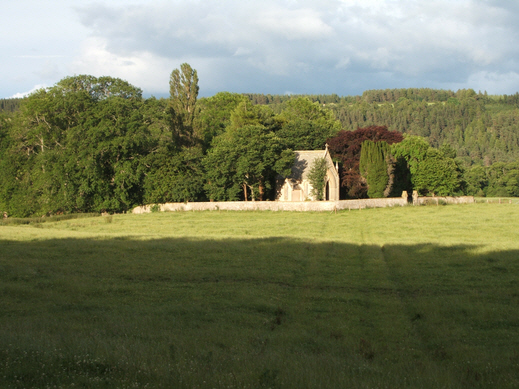 The Gothic style mausoleum on the site of St Mary's Chapel, Orton.
The site is surrounded by a wall and the Holy Well still remains on the north side. It attracted pilgrims from as far away as the Western Isles and its waters were believed to be particularly good for rheumatism and whooping cough. In a niche above the well is one of the old stone containers which were used to hold water from the well.
| | | |
| --- | --- | --- |
| | | |
| Detail. | St Mary's Holy Well on the north side of the boundary wall. | Detail of the water-container. |

e-mail: admin@cushnieent.force9.co.uk
© 2005 Cushnie Enterprises