| | | |
| --- | --- | --- |
| | Kynnor. | |
Associated Chapels: Annetswell.
OS Ref: NJ 544432 RCAHMS No: NJ54SW 1
This is reputed to be one of the very oldest Christian sites in Scotland, it being associated with St Mungo (St Kentigern). The hill to the east of the site bears the name of this saint. However, Stuart in 1859, states that its early association was with the seventh Century St Marnan rather than Mungo. Situated above the River Deveron, this site is certainly in the mould of early Christian foundations. In later medieval times it bore the dedication to St Mary.
A part of the Deanery of Strathbogie, Kynnor was, from 1224, a prebend of the Cathedral of Bishop Bricius. This prebend was composed of the churches of Dumbanan and Kynnor (Kinnoir). It is possible that the prebendal revenues were assigned for a time c.1469 to the Sacristan of the cathedral.
A fragment of the old fabric remains and the outline of the church is quite clear in the north-east corner of the graveyard which is well maintained and still used on occasion.
These two churches were the 'local' parish churches, Huntly at that time being but a hamlet (called Tirriesoul or Tilliesoul).
Traditionally, this is the burial place of the Gordons of Avochie.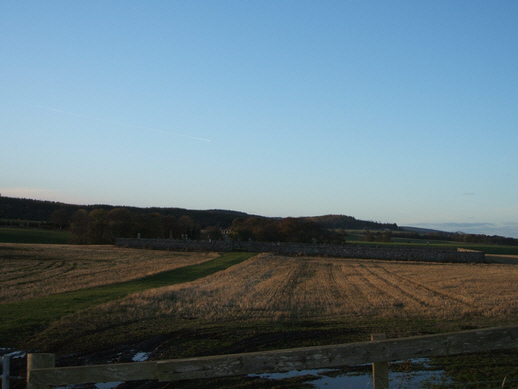 The site of the old church looking north at dusk.
| | |
| --- | --- |
| | |
| St Mungo's Hill to the west of the church. | Only remaining fragment of the old fabric. |
There is supposed to have been a chapel at Annetswell. The name certainly indicates an early foundation but no remains are to be found since the site is now a sprawling scrap-yard! Some records show this supposed chapel as being within Dumbanan parish.

e-mail: admin@cushnieent.force9.co.uk
© 2005 Cushnie Enterprises