| | | |
| --- | --- | --- |
| | Knockando. | |
Associated Chapels: Cardow, Crofthead, Kirdals, Pulvrenan (St Brendan).
OS Ref: NJ 203422 RCAHMS No: NJ14SE 1
The old church of Knockando was dedicated to St Brendan (the Navigator) and stood at Pulvrenan ('Poll Bhrennainn' or St Brendan's Pool). The Bishop of Moray for long held the Barony lands. The church was originally a pendicle of Inveravon and only later became a parish - perhaps in the 13th-14th Century.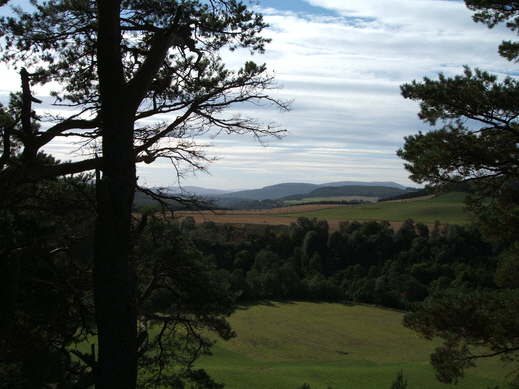 The view south from the churchyard of Knockando.
The later parish church was at NJ186428 within its own graveyard which had a Watch House which has very recently been converted into a small chapel. Following a disastrous fire the parish church was re-built and is a good example of modern church architecture.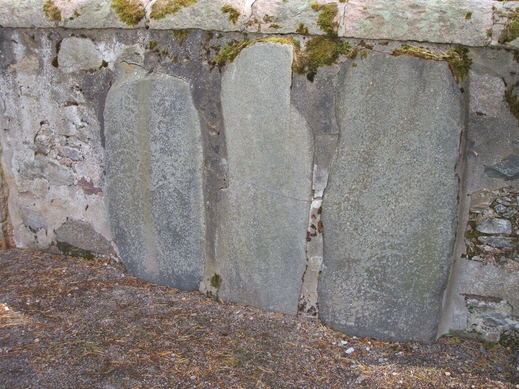 The collection of symbol stones at Knockando - all are badly worn.
The Symbol Stones were originally at the site of the ancient church at Pulvrennan. The left-hand stone has a wheel above two crescent-and-rod symbols which are positioned side by side. The right-hand stone bears a serpent at the top with mirror-and-comb at the foot. The central stone has Scandinavian runes incised on it - possibly 9th-10th century. They are all badly weathered and it is very difficult to determine the symbols.
Traditionally a chapel stood at Cardow and hence the nearby Chapel Hill. Today no traces of it are to be found at all. The site of a chapel and burying ground used to be pointed out between Wester Tarnbreck (NJ 223417) and Crofthead (NJ 235428) but nothing is known of it now.

e-mail: admin@cushnieent.force9.co.uk
© 2005 Cushnie Enterprises