| | | |
| --- | --- | --- |
| | Kingussie. | |
Associated Chapels: Cladh Phadruigh (St Peter?), Banchor (St Bridget), Invertromie, Nuide.
OS Ref: NH 759007 RCAHMS No: NH70SE 5
Kingussie has always been associated with Colum Cille (St Columba) and he or more likely his followers are said to have founded a muinntir, "Feill Challumchille", here which in modern times has been wrongly referred to as a 'monastery'.
This church was granted to the Bishop of Moray by Gilbert de Cathern and this gift was confirmed by the King, William the Lion (1203x11).
In 1226, Bishop Andrew de Moravia united the church of Kingussie with that of Insh, to form a prebend of the Cathedral of the Diocese in Elgin. It would seem that from that time the two churches were served by one vicar. Kingussie was at all times part of the Deanery of Strathspey.
Some writers tell of a Priory being founded here c.1490 by George, Earl of Huntly.
The old parish church was built in 1624 and was still used for worship up to 1795. Only grassy mounds now mark the foundations of the church.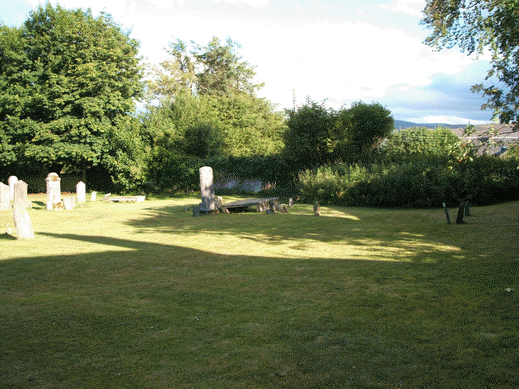 The site of the old Parish Church of St Columba, Kingussie.
The chapel which is supposed to have stood at Nuide has left no trace at all. When the tenant of the farm was visited he had no knowledge of a chapel.

e-mail: admin@cushnieent.force9.co.uk
© 2005 Cushnie Enterprises