| | | |
| --- | --- | --- |
| | Kineddar | |
Associated Chapels: St Gerardine's.
OS Ref: NJ 228655 RCAHMS No: NJ26NW 9
The barony lands of Kineddar were for long held by the Bishops of Moray and it was here that they made a home before the great Palace of Spynie was built, resulting in the church becoming the cathedral. But this whole area can trace its Christian history back to the very earliest times and it may be that Kineddar was the site of an early muinntir. It is believed that this church acted as the cathedral between 1187 and 1203. The church of Kineddar was granted by Simon, Bishop of Moray, to the Priory of St Andrews 1171x83 and this gift was confirmed by various Popes to 1248. However, linked with Essil, by Bishop Brice (1208-15), it formed the prebend of Treasurer of the Diocese in the early chapter.
Bishop Archibald is said to have built an Episcopal residence here in 1280, but this must have been a restoration of a previous building since charters dated previous to this are known signed at Kenedor.
This parish was united with that of Ogston on 17th February 1669 and, at that time, the church was removed to Drainie. This latter church lies under the tarmac of the main runway of RAF Kinloss.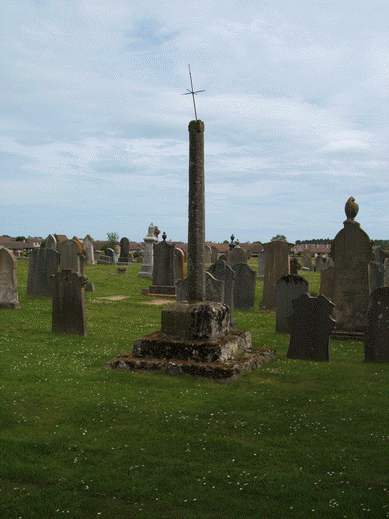 The remains of the old market cross within the churchyard.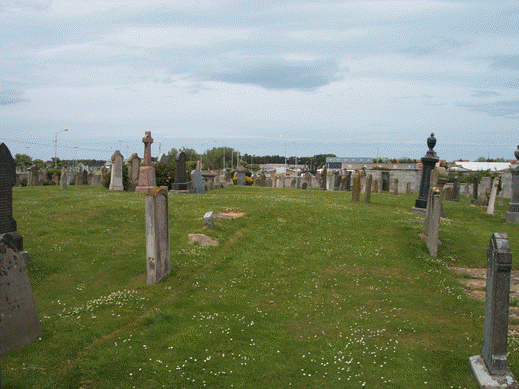 The mound upon which the old church stood.
The local saint, known as St Gerardine (more properly Gervadius, who died 934AD) had a hermitage in a cave situated on the cliff above the old railway station. (McKay says that Gernadius "was a Celtic missionary who came to the Picts.") This rocky promontary is recorded in the charters as 'Holyman-head' which name still appears on the maps - the Halliman Skerries, over which generations of Fleet Air Arm and RAF pilots have guided their aircraft when landing, derive their name from the same source. The hermitage was a place of pilgrimage up to the 16th century. It is said that the hermitage, no more than 4m square, had a Gothic window and doorway commanding a wonderful view along the East Beach and beyond to the lands of Speymouth. This decoration was destroyed c1768 when the cliff was used as a quarry. There was a St Gerardine's Well on the cliff face above the hermitage.

e-mail: admin@cushnieent.force9.co.uk
© 2005 Cushnie Enterprises