| | | |
| --- | --- | --- |
| | Innerkethney. | |
Associated Chapels: none known.
OS Ref: NJ 629471 RCAHMS No: NJ64NW 11
The present church building dates from 1881 and includes the belfry from an older church, dated 1638. This older building was the result of repair being made to 'the ancient edifice' in 1638, whose date of erection was not known. The church seems now to be unused although the graveyard remains used and maintained. The location of this old church is quite romantic and is well worth a visit commanding, as it does, the approach to the River Deveron.
There was a ferry here across the Deveron and on the opposite bank from the church is Cobblehouse which seems to retain a memory of this. Interestingly, also, on this opposite bank is Chapeltown so it may be that there was a chapel here.
Within the graveyard is a memorial to an Episcopalian priest who was banished to France because of his associations with Bonnie Price Charlie, and a more recent one to a world champion dancer.
After the Reformation this church was united with Ythanwells.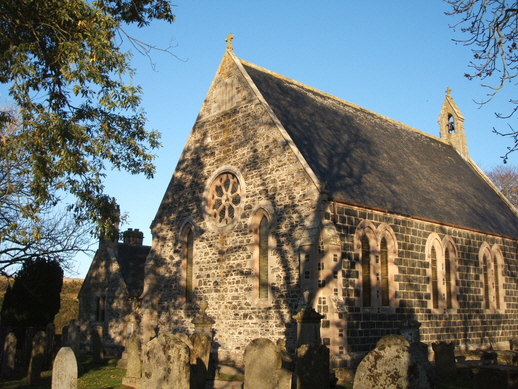 The present church.

e-mail: admin@cushnieent.force9.co.uk
© 2005 Cushnie Enterprises