| | | |
| --- | --- | --- |
| | Glass. | |
Associated Chapels: Braes; Edendyny; Kirkney; St Finan's.
OS Ref: NJ 528350 RCAHMS No: NJ53NW 15
The old church here was called Dunmeath but, by the locals, was known as the "Walla' Kirk" because of its ancient dedication to St Walloch. Although a little obscure, this saint is also the 'patron' of the old church of Logie in Cromar, Aberdeenshire. Written records of a church here start in 1157 but it is generally accepted that the site is a 'Celtic' one.
Here was St Walloch's Well, sometimes called the Priest's Well, whose healing properties were famous and which remained in use until recent times. Offerings of pins were left beside the well in a twin-holed stone. Here also is St Walloch's Bath, a cavity in the rock, 3-4 feet deep and supplied by a small spring which rises not far above. It also has been used even in modern times for the cure of sick children who were bathed within it. Likewise, a pool in the nearby river, the Walla Pot, was used in the same way and rags were left beside it.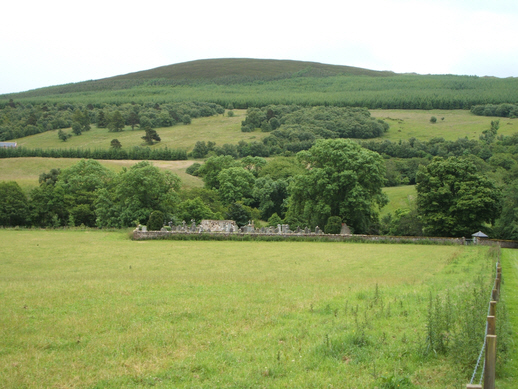 View of the site of the Walla' Kirk.
The graveyard is full of interest to the historian. Firstly, there is the burial enclosure of the Gordons of Wardhouse which was restored in 1913 and 2001. On this last occasion, the work was carried out at the behest of Mary Elizabeth Gordon Sanchez, Marchioness of Pescara, an ancient title which dates back to the Kingdom of Naples. On the previous occasion, the work was carried out by Rafael Gordon of Wardhouse, Count of Mirasol, a Spanish title. The history of the family of Wardhouse is fascinating and is given in detail on the Scanlan Site. Suffice it here to say that the link with the Spanish Royal House resulted in King Alfonso XIII and his new Queen, Victoria Eugenia, spending their honeymoon at Wardhouse in 1906.
| | |
| --- | --- |
| | |
| The Gordons of Wardlaw enclosure. | The old Celtic font within the Gordon burial enclosure. |
| | |
| --- | --- |
| | |
| Tombstones and wall memorials commemorating the restoration of the enclosure. | Grave of Rafael Gordon of Wardhouse, Count of Mirasol. |
In the graveyard are also two memorials to individuals famed in the world of church music - Sir Frederick Bridge who was for many years the Organist and Director of Music at Westminster Abbey; and his daughter Rosalind Flora Stainer, who married the son of Sir John Stainer, the illustrious composer and Organist of St Paul's Cathedral. The Bridge family lived at nearby Cairnborrow Lodge.
| | |
| --- | --- |
| | |
| Memorial to Sir Frederick Bridge. | His daughter's memorial. |