| | | |
| --- | --- | --- |
| | Forres. | |
Associated Chapels: St Leonard.
OS Ref: NJ 036589 RCAHMS No: NJ05NW 20
Some writers tell that the original church in this area was founded by St Maelrubha (673-722AD) indicating a very ancient Christian foundation indeed. There are indications that Forres was a centre of population from the earliest of times. It also boasts the dubious honour to have been where a disproportionate number of Scottish royalty have met their, often violent, end!
Forres was a canonry of the original cathedral foundation as laid down by Bishop Bricius in 1208x15. It was, with Logie Fythenach (Edinkillie), assigned as the prebend of the Archdeacon. The dedication has been to St Lawrence since early times and the site of the present parish church is thought to be that of the original pre-Reformation church which, it is said, was built at the behest of King Alexander III. in 1275 in memory of Queen Margaret. The ancient church is said to have been burned by the Wolf of Badenoch in 1390 and re-erected immediately afterwards. The ancient church is said to have persisted until 1775. The church was a part of the medieval Deanery of Elgin. The patronage of the parish church was for long in the hands of the Earl of Moray.
The present parish church was dedicated in 1906 and is supposed to occupy the site of the first church.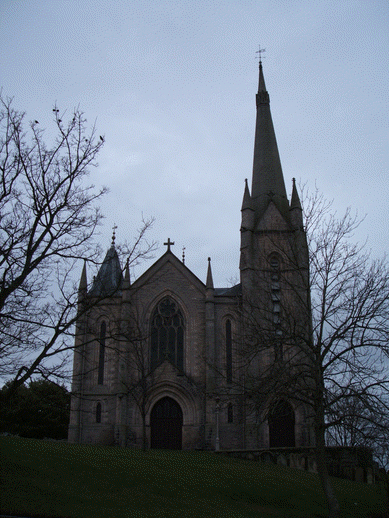 Present parish church of Forres.
There was a Chapel of St Leonard about a mile south of the medieval town, whose foundations can still be seen today.

e-mail: admin@cushnieent.force9.co.uk
© 2005 Cushnie Enterprises