| | | |
| --- | --- | --- |
| | Dunlichty | |
Associated Chapels: None known.
OS Ref: NH 660330 RCAHMS No:
Dunlichty (or Lundichty as it was sometimes known) provides the visitor with a wealth of ancient highland history set in one of the most picturesque locations it is possible to imagine. The photographs which follow were taken at 05.00 hrs one summer morning as the sun was rising over the eastern moors.
| | |
| --- | --- |
| | |
| The present Parish Church of St Fergus, Dunlichty | View from the west looking towards the sunrise. |
Dunlichty (Gael. 'Dunlecattie'; the hill of the Catti). Clan Chattan is derived from the Catti, one of the ancient Pictish tribes, and comprises a confederation of highland clans or families - MacIntosh; MacPherson; Davidson; MacGillivray; MacBean; VicGovies; Gows. A number of the chiefs of these clans lie buried within the ancient grounds of Dunlichty notably the Shaws of Tordarroch, which family was of old of Rothiemurchus, and the MacGillivrays of Dunmaglass.
| | |
| --- | --- |
| | |
| Plaque within the burial enclosure of the Chiefs of MacGillivray | Headstone of the Chief of Shaw of Tordarroch. |
The first foundation here is attributed to St Fergus and the church has from earliest times born his name.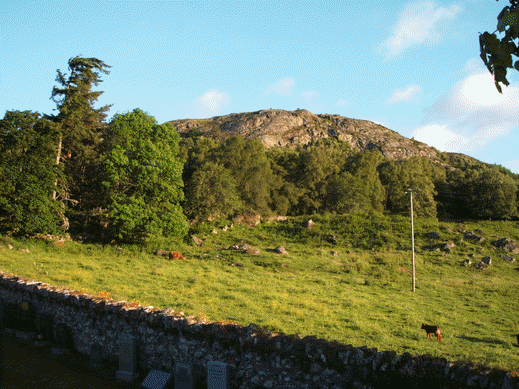 Creag a Clachain to the north-west of Dunlichty. Was this the Hill of the Catti tribe?
The parish was united with Daviot in 1618 and the church present building was erected in 1758.
The walled garden at Flichty (NH 685287) is thought to be on the site of a former graveyard and possible chapel.

e-mail: admin@cushnieent.force9.co.uk
© 2005 Cushnie Enterprises