| | | |
| --- | --- | --- |
| | Dumbanan. | |
Associated Chapels: Annetswell.
OS Ref: NJ 504408 RCAHMS No: NJ54SW 8
A part of the Deanery of Strathbogie, Dumbanan was, from 1224, a prebend of the Cathedral of Bishop Bricius. This prebend was composed of the churches of Dumbanan and Kynnor (Kinnoir). It is possible that the prebendal revenues were assigned for a time c.1469 to the Sacristan of the cathedral.
These two churches were the 'local' parish churches, Huntly at that time being but a hamlet (called Tirriesoul or Tilliesoul).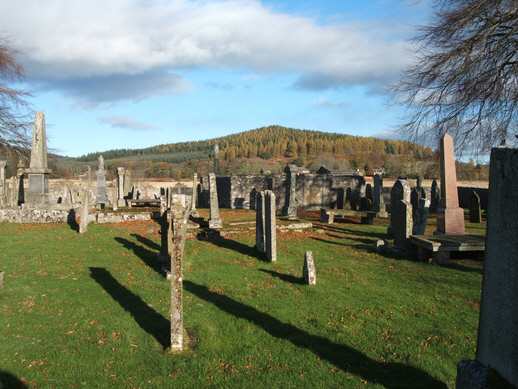 The site of the old church looking north-east to Ordiquhill.
There is supposed to have been a chapel at Annetswell. The name certainly indicates an early foundation but no remains are to be found since the site is now a sprawling scrap-yard! It is more likely that any chapel here was associated with the church of Kynnor.

e-mail: admin@cushnieent.force9.co.uk
© 2005 Cushnie Enterprises