| | | |
| --- | --- | --- |
| | Dipple | |
Associated Chapels: None known.
OS Ref: NJ 328579 RCAHMS No: NJ35NW 7
Many have lived in Moray for many years without ever becoming aware of the lovely churchyard of Dipple. Surrounded by what it is tempting to think is the original oval enclosure it sits in a field not far from the sparkling waters of the River Spey. The Earl of Moray's fishings here formerly belonged to the Bishops of Moray.
The church, dedicated in medieval times to the Holy Ghost (an unusual dedication in Scotland), is first mentioned in the early 13th century. Its erection, united with the parish of Ruthven, into a prebend of the Cathedral by Bishop Bricius was confirmed by Pope Innocent III in 1215. The parishes of Dipple and Essil were united by the Commissioners of Teinds on 14 July 1731 to form the new parish of Speymouth and the church was removed to Speymouth a year later. By 1879 only the Gordon Aisle (the old north aisle of the church) remained.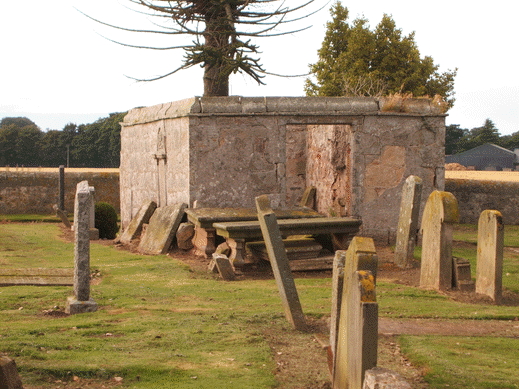 Burial enclosure within the graveyard - the Gordon Aisle.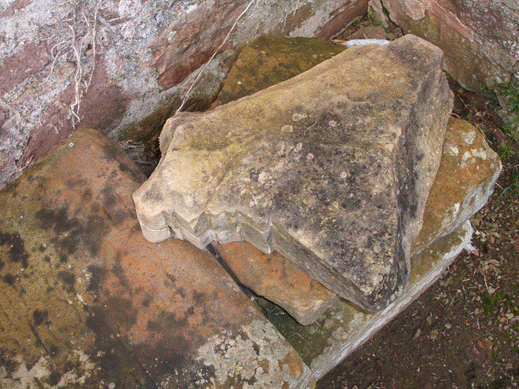 Fragment of carved stone within the burial enclosure.
The graveyard is well kept by Moray District Council and is well worth a visit to appreciate its setting.
The surrounding wall has been re-built on a number of occasions and on one of these, in 1868, a quantity of coins dating to the reign of Robert II (1371-9) was found beneath the exposed foundations. Some of these are to be found in the collections of the National Museums of Scotland in Edinburgh.

e-mail: admin@cushnieent.force9.co.uk
© 2005 Cushnie Enterprises