| | | |
| --- | --- | --- |
| | Dalarossie. | |
Associated Chapels: None known.
OS Ref: NH 767242 RCAHMS No: NH72SE 2
One of the older names for this church, 'Dulergussie' (Dail-a-Ferghais - Vale of St Fergus), points to its ancient association with St Fergus. The church is known to have existed in early medieval times but its name suggests that it is an early foundation, perhaps dating to the 8th century. It has been suggested that the Fergus from which the name derives may, in fact, be King Fergus of Dalriada after who Ardverikie in Laggan is named. It is certainly probable that, if a Saint, he was not the same as is celebrated in the north east of Scotland.
In medieval times this church formed part of the Episcopal mensa, remaining so up to the time of the Reformation, and was united with part of Moy parish in 1618. At some date, the Bishop gave the revenues to the Cathedral for the upkeep of the lights.
The present church dates from 1790 and was much altered in 1856 and 1904. The pre-Reformation font is still to be found inside the church mounted on a boulder on the north side. Also inside is the "Priest's Stone" - Clach an t'Sagairt, which was used in olden times as a hand-fasting stone whereby marriages and other contracts could be made by shaking hands through the hole in the stone.
The surrounding graveyard has for long been the burial place of the family of Mackintosh of Kyllachy.
The church, which is still in use, is superbly maintained and, at the time we visited (December 2005) had only recently been redecorated. The parish authorities are to be congratulated on its upkeep. Its site is superbly romantic, as well as being remote from the usual visitor trails, and it would richly reward anyone who would take to the trail up this wonderful part of the valley of the Findhorn. The river makes a remarkable right-angle turn where the church stands and it is possible that there was a crossing point here in days gone by.
| | |
| --- | --- |
| | |
| The approach to Dalarossie. | The Vale of Fergus with the church over the river. |
The small building attached to the west end of the church was added c.1820 as a watch-house to deter grave-robbers.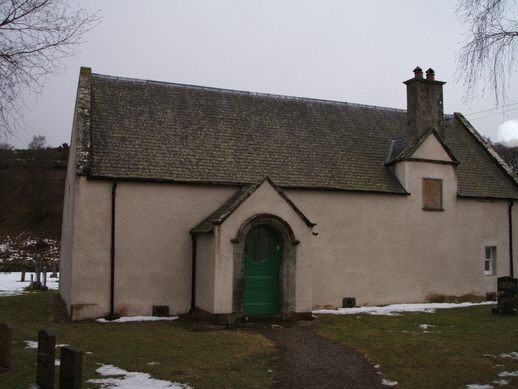 The entrance to the church.
Dalarossie is a jewel in the rich crown of Moray Diocese and is a 'must visit' for the interested antiquary.

e-mail: admin@cushnieent.force9.co.uk
© 2005 Cushnie Enterprises