| | | |
| --- | --- | --- |
| | Cromdale. | |
Associated Chapels: Auchnahannet, Finlarig, Lochindorb.
OS Ref: NJ 067290 RCAHMS No: NJ02NE 13
Cromdale is one of a number of very old Christian sites in this part of the Spey Valley. The foundation here is attributed to St Moluag of Lismore which gives the old Gaelic name for Cromdale - Sgir-na Luac. Cromdale was a thanage in ancient times and it is tempting to suggest that it has been the 'centre' of the local district from Pictish times.
Sitting on the east bank of the River Spey, at a point where once was a ford and/or ferry, the site is very picturesque.
The church was given by the Earl of Fife to the Bishop of Moray (1224x1226) and, with the church of Advie, formed a prebend of the Cathedral, both parsonage and vicarage tithes being assigned.
In Cromdale is Dellachaple, the seat of the head of Clan Chiaran, whilst on the west side of the river is Achinarraw, where the Clan was first seated. Also close by is Dunan, the first seat of the Clan Allan and the also the house of the Chief of Clan Grant (Grant of Freuchie). In the upper end of the parish is Tullochgorum, the seat for near to 500 years of the chief of the Clan Phadrick Grants, whom Nigel Tranter calls, "a wild lot!" These Grants were alleged to have a familiar spirit, or brownie, called Mag Molach, in the shape of a small hairy boy, who used to conduct the laird home of a dark night, with a special candle.
The parish is united with those of Advie and Inverallen.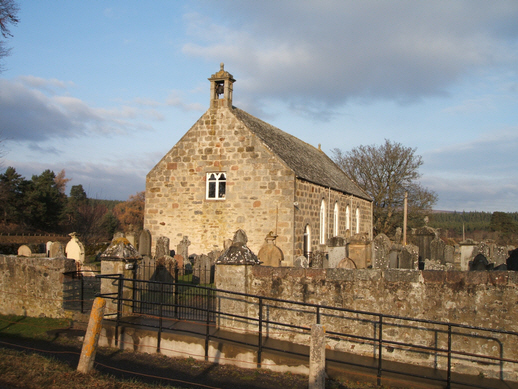 The present church of Cromdale.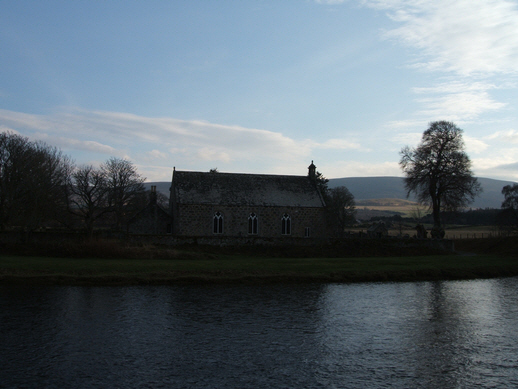 View of the church from across the River Spey.
There is supposed to have been a chapel within the ancient Comyn castle at Lochindorb (NH 975363).
Muckerach Castle, once also called Over Finlarigg, was formerly an important Grant stronghold. In 1583, John Grant of Freuchie, 14th Laird, gave these lands to his second son Patrick, who built the castle. He was knighted by James III. and died 1626, the progenitor of the Grants of Rothiemurchus. Here, at Finlarigg was a chapel of unknown date. However, although documentary evidence is thin on the ground there is much of archaeological interest. A Pictish symbols stone was found here - a fragment of a larger stone - incised with V-rod and Z-rod symbols. There is also what is supposed to be the remains of the chapel within a circular enclosure within a Field which is known as Chapel Park (NH 991254).
Near Auchnahannet (NJ 062331) is a burial ground and possible site of an early chapel. The name suggests a very early Christian site.

e-mail: admin@cushnieent.force9.co.uk
© 2005 Cushnie Enterprises