| | | |
| --- | --- | --- |
| | Barevan. | |
Associated Chapels: Daless, (unknown).
OS Ref: NH 837473 RCAHMS No: NH84NW 6
In the whole province of Moray there are one or two ecclesiastical 'gems' and Barevan is one of them. Its location is now remote but the visitor is rewarded with the very complete ruins of the ancient church set in the heights of the lands of the Earls of Cawdor, whom Shakespeare mistakenly entitled 'Thanes'.
This church was gifted in 1225 to Scone Abbey but this seems to have been ineffective and it was later held 'in common' by the Chapter of Moray.
The ruins are of the Fourteenth century but there has been a church here from the earliest days of Christianity. Watson (1926) considered that the name is derived from 'Bar Eibhinn' from Aibind, who is said to have been active between 500 and 550 AD. The Celtic origins are confirmed by the existence of an early Saints Bell, said to have belonged to the church, which was for long preserved at Cawdor Castle. There were many cup-marked gravestones in the churchyard but their current location is not known. The later, medieval, church is said to have been dedicated to St Cuthbert but the parish was of old sometimes known as Borivon (Bar Ewan).
The comparative sumptuousness of this medieval building reflects the power and wealth of the family of Cawdor.
This was a Parish Church until it was replaced in 1619 by the present Cawdor Parish church. This church is, itself, worthy of interest and within the churchyard is the grave of one of the Royal Navy surgeons who attended Admiral Nelson after he was shot at the Battle of Trafalgar.
| | |
| --- | --- |
| | |
| The south wall and doorway. | Interior, looking east. |
| | |
| --- | --- |
| | |
| Two lancet windows in the north wall - from the interior. | Simple but elegant tracery of the window above a piscina. |
| | |
| --- | --- |
| | |
| Rudely arched doorway in the south wall. | Exterior of the window shown above. |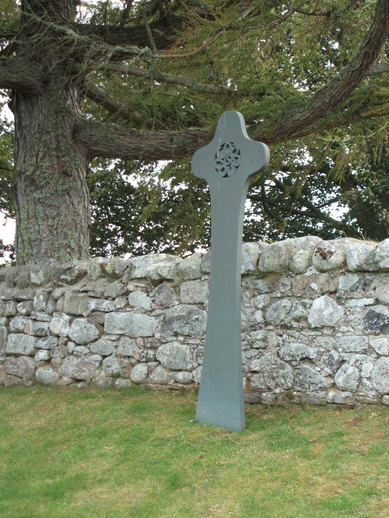 There is a modern extension to the graveyard on the north side
which has this wonderful interpretation of a Celic Cross.
We make no apology for including so many images here. The stonework of this building is quite exquisite.
There was a pre-Reformation chapel-of-ease at Daless (NH 861389) with an associated glebe. All that remains now is an enclosure but there is no trace of the chapel or gravestones.
There was also a chapel of St Mary at the old Cawdor Castle and when the castle was re-built in 1467 a new chapel was, it is thought, erected on the south side of the tower.

e-mail: admin@cushnieent.force9.co.uk
© 2005 Cushnie Enterprises