| | | |
| --- | --- | --- |
| | Alves | |
Associated Chapels: Hill of Greeny, Kilbuyak, Kinloss, Knock of Alves.
OS Ref: NJ 135630 RCAHMS No: NJ16SW 7
The church, known as Mary Kirk, is first mentioned in the 13th century. From the days of Bishop Bricius' foundation of the cathedral at Spynie the church of Alves (Aluays) formed part of the prebend of the Precentor of the Cathedral.
The present building built c1769 (date on belfry) ceased to be used in 1932 and is now becoming a ruin although it does still retain its roof. There is said to have been a stone dated 1568 in the floor of the church. Set into the east gable is a memorial to Beroald Innes.
The lands of Cleves (Cloves) Monachtie (Monaughty) and Aslisk (Asliesk) were church lands. Danish axes found nearby show the antique nature of this area. They are probably related to the Danish tenure of the Pictish fort at Burghead.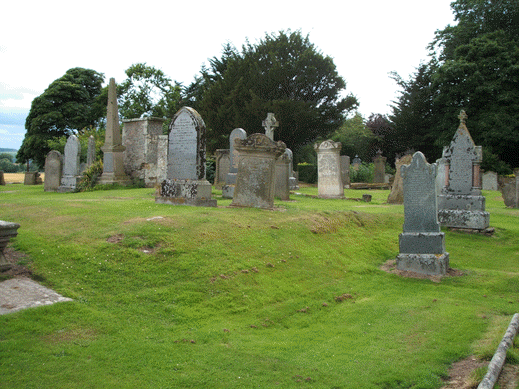 The original position of the church seems to be marked by the mound shown here.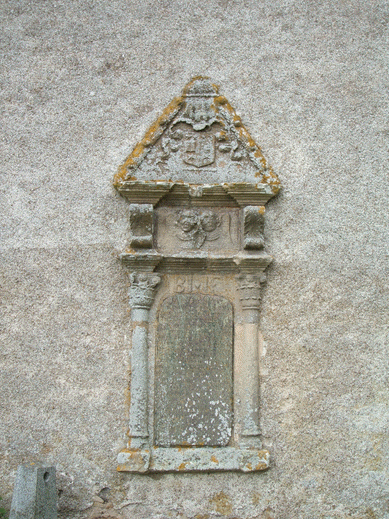 Fine memorial to Beroald de Innes.
The chapel at Hill of Greeny is not a certain site.
Kilbuyak (NJ 096603), a large grass covered mound, is thought to be a motte and there certainly was a castle here. It was a recognised place of assembly for musters, courts, etc., in the 16th and 17th centuries and probably much earlier. It would not be unusual to find a chapel at such a site but there are no known remains.
Tradition has it that a very early Christian church, possibly Culdean (weren't they all!) crowned the top of Knock of Alves (NJ 163629) but no evidence has ever been found to support this.
There was a chapel at Kinloss, as distinct from the Abbey, which was a dependency of Alves but no indications of its location are known. It is possible that it stood at Findhorn which was then called Inverern.

e-mail: admin@cushnieent.force9.co.uk
© 2005 Cushnie Enterprises