| | | |
| --- | --- | --- |
| | Advie | |
Associated Chapels: None known.
OS Ref: NJ 141352 RCAHMS No: NJ13NW 1
There is nothing left of the fabric of the ancient parish church of Advie which, tradition says, was dedicated jointly to St.Brigid and St. Moluag. It is believed that the last remains were removed in 1900. The graveyard, however, survives in a very peaceful spot beside the tumbling waters of the River Avon. To access it requires a little adventure since it involves following the path of the old railway north-east from what remains of Advie Station.
Advie (with Cromdale) formed the prebend of one of the ordinary canons of the cathedral from about 1226.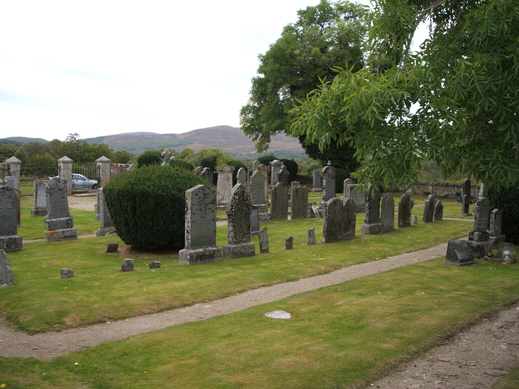 A number of early grave-markers in the graveyard at Advie.
The graveyard has been recently extended and provides a parking space that makes an ideal spot for a quiet picnic.

e-mail: admin@cushnieent.force9.co.uk
© 2005 Cushnie Enterprises