| | | |
| --- | --- | --- |
| | Abernethy. | |
Associated Chapels: Congash; Lethnachyle.
OS Ref: NH 994217 RCAHMS No: NH
There is a suggestion that the church here was dedicated to St George which, if true, would appear to be a relic of later, medieval times. There is evidence to suggest that Abernethy was an ancient thanage or shire.
One of the earliest notices of the church of Abernethy is in a Donation of Richard, Bishop of Moray, who died in 1203. In 1226 there was a contention between the Church authorities and the proprietor or feuar of the lands in Abernethy, the former being represented by Andrew, Bishop of Moray, and the latter by James, the son of Morgund. The dispute regarded a piece of land at Coningas (Congash), and another at Abernethy, and also to the sum paid to the Crown in the name of Cain teinds by the predecessors of James. The matter was finally settled; James and his heirs were to be freed from all exactions made by the Bishops of Moray or the Dean and Canons, and in return bound himself to provide 'a suitable manse near the Church, with a croft extending to one acre convenient thereto, and also to pay one mark yearly as a token of the agreement being firmly and perpetually observed'. In medieval times, from about 1226, the church of Abernethy was a 'common' church of the Chapter of Moray.
The present church was erected early in the 1800's and was repaired and remodelled in 1874.
Nearby is Achernack, for hundreds of years the residence of the Head of Clan Allan.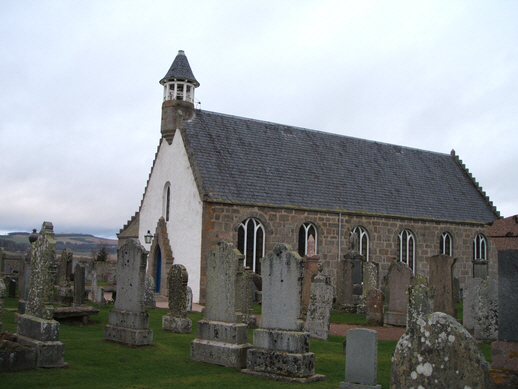 The present building at Abernethy.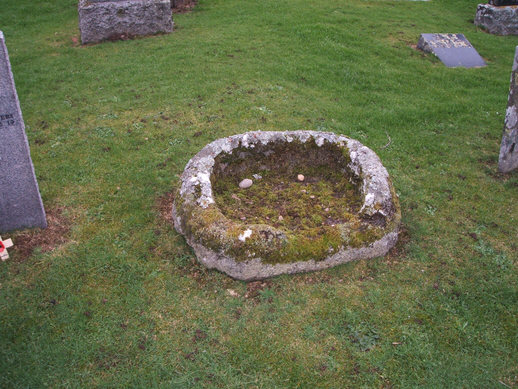 What appears to be the old font in the churchyard.
In later medieval times there were subordinate chapels at Congash (NJ 058262) and Lethnachyle. Pictish carved stones at the former and an old burial ground at the latter may possibly suggest that chapels had existed here in earlier times. It is believed that the site at Lethnachyle was the first church site in Abernethy.

e-mail: admin@cushnieent.force9.co.uk
© 2005 Cushnie Enterprises