Tullibardine Collegiate Church.
This old church is about six miles south from Crieff. It was founded "in honour of our Blessed Saviour", for a provost and several prebendaries, by Sir David Murray of Tullibardine, ancestor of the Duke of Athol, in the year 1446. Sir David died in the same year and was buried in his church. This is one of the few collegiate churches in Scotland to be entirely finished as a single project and to remain unaltered.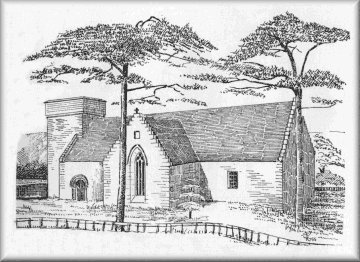 View of St Saviour's from the south.
The walls are of a considerable thickness and, consequently, the window tracery is deeply set, giving a "massive" appearance. The east end of the church has no window and the lathwork is visible which was used to attach tapestry to the wall. Other features would lead us to believe that the west wall of the nave and the end walls of the transepts were similarly covered with tapestry. In its original state the church must have had a warm, welcoming and colourful atmosphere.
| | | |
| --- | --- | --- |
| | | |
| Interior view of the church looking towards the south aisle. | | Plan of St Saviour's Tullibardine. |
e-mail: admin@cushnieent.force9.co.uk
© 2005 Cushnie Enterprises