Trinity Collegiate Church, Edinburgh.
The Collegiate Church of the Holy Trinity stood in the hollow between the Old and New Towns of Edinburgh, on the west side of Leith Wynd. It was founded by Mary of Gueldre, Queen of James II, shortly after that king's death (1460), the foundation charter of erection being dated 1462. The church was dedicated to, "the honour and praise of the Holy Trinity, to the ever blessed and glorious Virgin Mary, to Saint Ninian the Confessor, and to all the saints and elect people of God."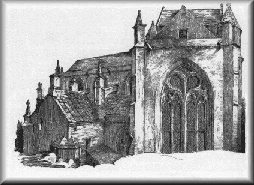 The foundation was established for a provost, eight prebendaries, and two clerks, and in 1502 there were added a dean and a sub-dean.
Connected with the college was Trinity Hospital, also founded by Queen Mary of Gueldres. After the Reformation the endowments passed into the hands of the Town Council, who maintained the Hospital as a city charity for decayed burgesses and their families. The church became the the place of worship of a new parochial division called Trinity College Parish, and so continued till 1848, when it was removed to make way for the station of the North British Railway!
Trinity College was a very fine specimen of the Scottish Gothic architecture of the fifteenth century. It showed that much of the middle pointed or decorated style continued in use in Scotland long after its demise in England. It is said that, "the interior is a very beautiful decorated composition, with the capitals of the piers enriched with foliage, not exceeded in design or execution in any English cathedral!" The nave of the church was never completed supposedly because of the death of the foundress in 1463.
When the church was demolished, a careful search was made to discover the remains of the royal foundress; and a skeleton, in an antique-shaped leaden coffin, was found in the apse, near the place where the high altar must have stood. It is to be assumed that these were indeed the remains of the Queen dowager. A Diptych, painted on both sides, and executed in 1484 is still in the possession of the Royal Collections and is supposed to have been the altar-piece from Trinity College.
e-mail: admin@cushnieent.force9.co.uk
© 2005 Cushnie Enterprises