Biggar Collegiate Church.
In 1545 the Church of St Nicholas was founded and endowed by Malcolm, Lord Fleming, the Lord High Chancellor of Scotland. The charter of foundation is aid to still exist. It was addressed by Lord Fleming to Cardinal Beaton, and states that the church was to be erected in honour of the Holy Trinity, the Blessed Virgin Mary, St Nicholas the patron of Biggar, and St Ninian. The purpose of the foundation was to support a provost, eight canons or prebendaries, four singing boys, and six poor nuns, and the presentations and endowments of all of these individuals was reserved to Lord Fleming.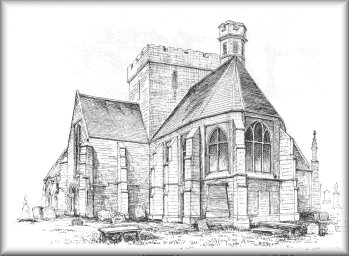 View of the College from the south east.
The special duties of the prebendaries were as follows:- The first prebendary was to instruct the singing boys in music, the second was to be master of the grammar school, the third was to act as sacristan - to ring the bell, to light the tapers on the four altars, and to attend to the vestments and ornaments thereof - and the fourth prebendary had charge of the poor nuns and gave them their allowances. This foundation model is fairly typical of the Scottish Medieval Collegaite Churches. A hospital was to be provided for the poor nuns and suitable houses were to be erected for the provost and canons.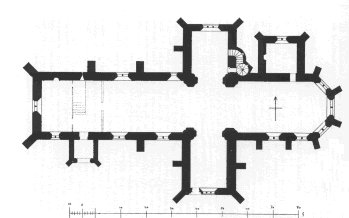 Plan of Biggar Collegiate Church.
During the progress of the work, Malcolm, Lord Fleming, died. The building was carried on by his son, and scarcely completed before the Reformation intervened to interrupt the work.
It is possible that the Collegiate Church replaced an earlier building.
e-mail: admin@cushnieent.force9.co.uk
© 2005 Cushnie Enterprises