When Colum Cille (St Columba) visited the court of King Brude, according to his biographer St Adamnan, he was accompanied by two other saints - St Congal and St Kenneth. Congal was an obvious choice of companion since he was an Irish Pict and had none of the problems of language which Columba had.
St Kenneth was born at Keenaght in County Londonderry in 517 AD, a Pict of the tribe of Corco Dalann. His father, Lugayd, was a bard and Kenneth seems to have inherited certain poetical skills from him. He was a fellow pupil of St Columba at Finan's famous school at Clonard. Following this he crossed the seas to Wales and placed himself under the direction of St Cadoc. After some time, and perhaps a visit to Rome, he returned to his home for a time before crossing to Scotland. His work is remembered by church dedications among the Hebrides and in Kintyre. In the Rev. A. Macmillan's Iona, p.35, he says that "there was a chapel dedicated to St Kenneth on Iona, "which stood within the area occupied by the present parish church." The parish of Laggan in the the days of the old Diocese of Moray was known as Logy-Kenny and in the Gaelic is called Laggan-Choinnich, i.e. the hollow of St Kenneth. Tradition says that the present ruin marks the church built by Allan-nan-Creach, or Allan of the Spoils, one of the Lochiel family (he was the son of Donald Dubh and Alan's son is reckoned to be the first to have been known as 'the Lochiel'), who founded it and six other churches as an atonement for his crimes. It is supposedly situated on the site of Kenneth's ancient foundation.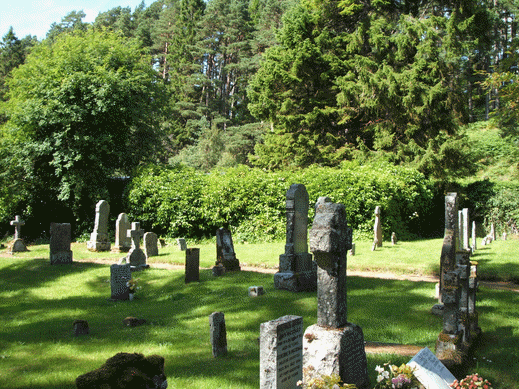 The ivy-clad ruins of the church of Logy-Kenny.
St Kenneth is, of course, most famously linked with his principal foundation of Achadh-bó in Ireland but the Martyrology of Donegal also speaks of "an abbey-church of his at Cill-righmonadh (St Andrews)".
Of great interest to us is the fact that the church at Laggan is so close to that dedicated to St Columba at Kingussie and that of St Adamnán at Loch of Insh. It seems to lay before us a very clear pathway for the clerics of the Iona school up Loch Laggan and into Strathspey. Travel by water was much easier in these early times than overland routes and we can see what an advantage the great length of Loch Laggan would be to the traveller. Adamnan says that Colum Cille travelled to Brude's court in part by 'sailing' up Loch Ness and it takes little imagination to see the early saints using Loch Laggan in the same way.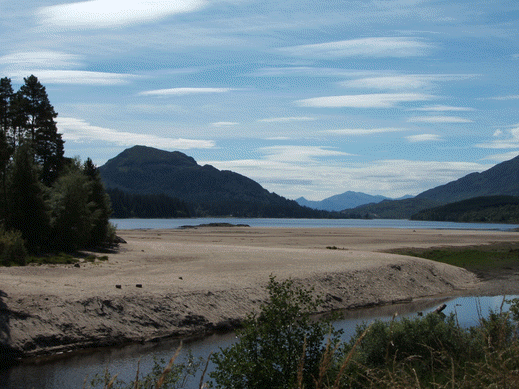 View from St Kenneth's Church looking south-west down Loch Laggan.
According to certain sources St Kenneth is supposed to have died in 600 AD {Reeves, Life of St Columba.}